What is W eyelash extension?
What is W eyelash extension
W eyelash extension
Have you ever used Y-shaped eyelashes? Now its upgraded version is coming. It is W eyelash extension. W eyelash extension are made of three eyelashes glued together by a special process to form a W lashes, also like a sawtooth shape.
W Eyelash Extension Size:
Thickness: 0.05/0.07mm
Curl: C,D
Length: 8-15mm
W eyelash extension are very suitable for covering the gaps of sparse eyelashes. If you don't like the thick feeling easily brought by fans, you can try this eyelash, it won't look very thick. The eyelash extension is made of soft chemical fiber. These eyelashes are not cruel and have not been tested on animals. Use the eyelashes in the work area you need. It will improve your work efficiency and speed up your work.
W eyelash extension are relatively new in the industry, and this shape is questionable. When we send this eyelash sample to customers for free, customers are not sure whether they are popular. But the result is beautiful. It has been recognized by all customers.
W eyelash extension like its name, are three separate eyelashes, which combine to form a very unusual extension.
Now, it is used like prefabricated eyelashes. Therefore, this is a real universal lashes, which almost closes the gap between classic and volume. On the whole, it has proved to be popular.
In order to meet the needs of customers, we have added split W eyelashes. That is to say, we have two different W eyelashes, single and double.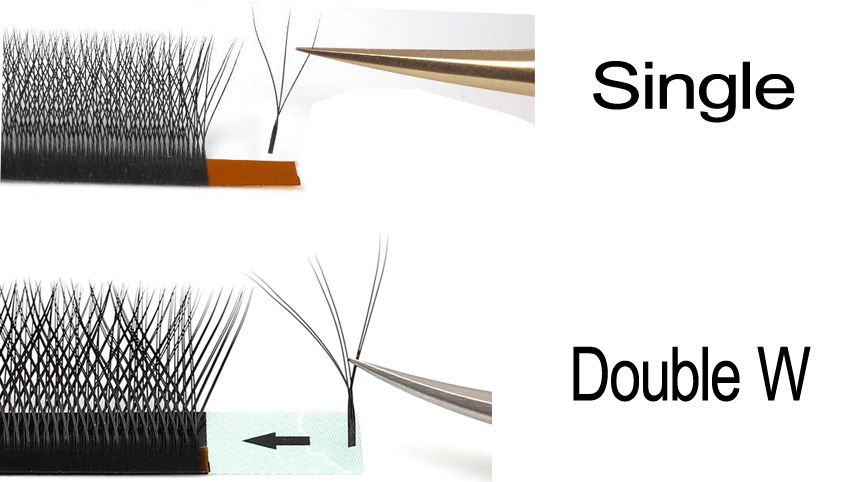 About Cooperation
Many customers send emails asking me how to cooperate with me, how to customize their own brands, and how to test the quality of products? I will answer these questions in a unified way today:
1.We accept private brand customization. When you place an order, I can provide you with free design labels.
2. Before our first cooperation, I can provide you with three free samples to facilitate your testing of product quality. You only need to pay a little freight.
3. This is my contact information. If you have any questions, you can consult me at any time.
Whatsapp+86 18254273859
Email [email protected]